USAF successfully launch the new GPS IIF-1 satellite
GPS
Article by: Mike Barrett
Date: 29 May 2010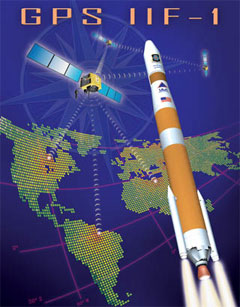 Last night saw the successful launch and deployment of a new generation of GPS satellites the GPS IIF. These satellites are built by Boeing and will enhance the current GPS constellation by adding a further 12 GPS satellites to replace the current ones that are nearing the end of their service life.
This launch was particularly important for a number of reasons: It was to be the first of the new GPS Satellites; It represented a major milestone for the Delta Rockets; and it was to be the first GPS launch on the Delta IV rocket.
The full pre-launch and launch day events follow along with our GPS IIF-1 launch video:
I had arranged to come out to Florida last year to witness this launch but it was postponed from November to February, finally to May 13th. May 13th was a particularly poignant date as this represented the 50th anniversary of the Delta family of rockets. Unfortunately due to the final flight of the Space Shuttle Atlantis this date was pushed out to May 20th.
GatorGuy and I were invited by the USAF to attend a pre-launch press conference on launch pad 37 at the Cape Canaveral Air Force Base 12 hours before the launch. We headed out the the meeting point outside the security barriers of the AFB where we were met by our Air Force escorts (including Dan @AFSpace on Twitter). With about 25 other reporters we were take out to the Launch Complex in a large convoy.
http://www.pocketgpsworld.com/USAF-successfully-launch-the-new-GPS-IIF1-satellite-5123.php